Your Local & Long Distance 24/7 Towing Solution in Grande Prairie and Alberta
Whether you're looking for roadside assistance for personal vehicles, company equipment or oilfield equipment, we've got it covered.
Light Duty Towing Recovery and Roadside Assistance
Rain, shine or snow—call us for your roadside rescue. Have you locked yourself out of your vehicle, blown a tire or ran out of fuel on the highway? Caught in a rear-ender, broken-down vehicle, or accident? Assisting you in your inconveniences and accidents is our specialty, whether it's outside of Grande Prairie or beyond Edmonton. Prime Towing is prepared to respond quickly and affordably to take the "stress" out of your roadside distress.
Oilfield Hotshots
Lockouts (Auto Unlocking)
Battery Boosts
Tire Changes
Gas & Diesel Fuel Deliveries
Light Duty Towing
Heavy Duty Towing
Medium & Heavy Duty Towing and Recovery
Our equipment and personnel is prepared to assist you with your mid-sized to large vehiclesand equipment. We know that larger vehicles come in all shapes and sizes, so we've equipped our fleet to address almost any stranded unit. Any shape, anywhere.
Full Size Pickups
Medic Units
Picker Trucks
Service Trucks
Crew Trucks
Buses
Large Vans
Semi Trucks
Trailers and Semi Trailers
Landoll Equipment Transportation
Your equipment deserves the best care, which is why we use the best equipment for the job. Our Landoll sliding axle trailers are specialized for heavy transport, and ready for your construction equipment, oilfield equipment, farming equipment, rentals, forklifts, seacans, rig shacks, tanks and more.
Safe Equipment & Vehicle Recovery
We not only offer recovery units, but also competent, safe operators. We have years of experience dealing with proper recovery of all aspects of cars, trucks, tractor trailer units and farm equipment. Here at Prime Towing, our drivers understand the dangers of dealing with recovering units in a high traffic oil and gas area. We always perform a hazard assessment to ensure  operators, public and our environment are safe and protected. All operators are trained in H2S Alive and first aid, and ready to make the rest of your day as smooth as possible.
Corporate Packages
Are your employees frequently on the road? Your company could benefit from a corporate service package.
Call Dallas at
1-780-830-9157 to Learn More
Equipment You Can Trust For Light or Heavy Towing
Our fleet at Prime Towing consists of Grande Prairie's newest, top of the line equipment with units to cover all your towing and recovery needs. Our equipment is top of the line—we are proud to own one of the largest heavy wreckers in Alberta.
Light Duty Tow Trucks
As these smaller and efficient tow trucks are our equipment most frequently on the road, we take a lot of care ensuring they're operating at their best. For your hotshots, roadside care and emergency assistance, our light duty trucks are ready to go.
Heavy Duty Deck Trucks
These tow trucks are your best bet for service trucks, welding trucks, medic units, and other heavy units. But heavy duty deck trucks aren't just for road vehicles: they're perfect for moving rental equipment, skid steers, loaders, pavers, sheds, farm equipment, and sea-cans.
50 Ton Heavy Wrecker With 35 Ton Side Pullers
This equipment is used for all semi-truck towing needs, whether it's winch-outs, rollovers, or you name it. Our wrecker is prepped for your heavy truck trailer towing and recovery.
Our Service Area
Based out of Grande Prairie, we at Prime Towing are ready to respond to your call just about anywhere. With affordable flat rates, no hidden fees and direct pay on site, we ensure our priority is your convenience.
Our Wide Service Area Covers: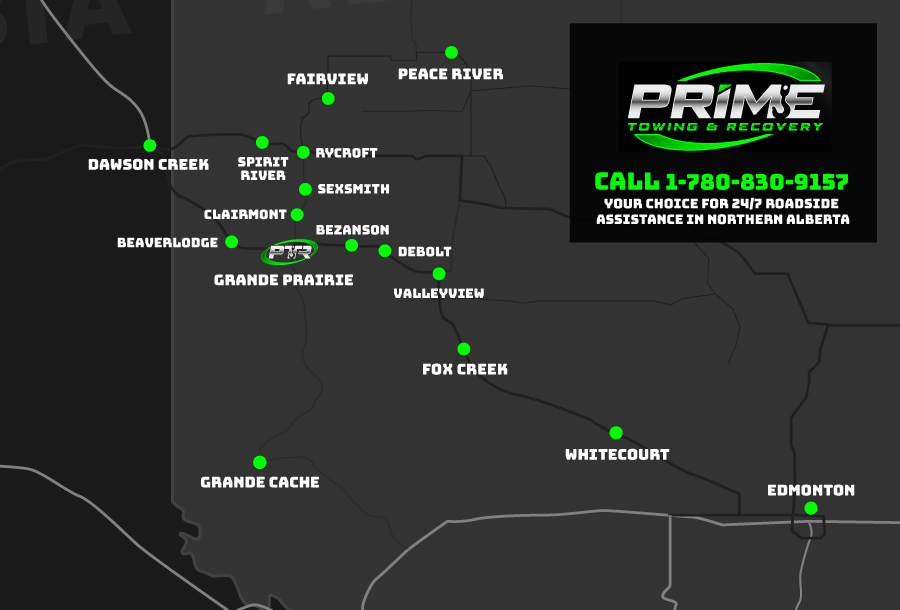 Beaverlodge
Bezanson
Clairmont
Dawson Creek
Debolt
Edmonton
Fairview
Fox Creek
Grande Cache
Grande Prairie
Peace River
Rycroft
Sexsmith
Spirit River
Valleyview
Whitecourt
About Prime Towing
Your convenience is our priority.
Locally owned and operated in Grande Prairie, Prime Towing & Recovery Inc. is proud to serve its community. Our towing company was founded by Dallas Fowler, a dedicated worker who has been thriving in the towing industry for over nine years. With Dallas's leadership, Prime Towing is among the most experienced towing companies in and surrounding Grande Prairie.
Pay directly on the road side with cash, credit or debit.
A flat tire, broken vehicle or accident is enough stress for one trip. That's why we believe that our clients should never be surprised by steep rates or hidden fees.
Our team comprises competent, safe operators.
There's a right and a wrong way to do roadside assistance, and we believe in never toeing the line. Our operators are trained and equipped to safely serve in a variety of environments, including oilfield. You can rest assured that your operator will arrive with the oilfield tickets, H2S Alive, first aid, and in-house safety training necessary for the job.